Real estate buying agent in Den Haag - purchase your dream home
Leidschenveen | Ypenburg | Den Haag | Leidschendam | Voorburg | Nootdorp | Pijnacker | Delft | Rijswijk | Voorschoten | Wassenaar
You've finally seen your dream home, your place, totally exciting. But now you face a new challenge: successfully making an offer and securing your dream home. With our years of experience as the full service real estate agent of Den Haag, Leidschenveen and Ypenburg and surrounding areas, you are in a strong position, we increase your chances of success and help you keep your cool. We are Nivita Parbhudayal and Laura van der Loo, an enthusiastic and driven team of buying agents with a personal approach ready to make your dream come true. Together, we boast over 40 years of experience in real estate, specializing in the vibrant housing market of The Hague. We therefore fully understand that buying a house is an exciting and important step.
We give you insight into the bidding process, the legal and financial aspects of buying a home and the value of your current home so you can make an informed choice. We are also your advisor for exclusive homes. With our extensive expertise, market knowledge and strong network we are your reliable partner for buying guidance in Den Haag area. Thanks to our smart approach and excellent negotiating skills, we have been able to purchase many homes below asking price in an honest and transparent manner. If you are still in the orientation phase, we can also guide you well. Feel free to drop by for a cup of coffee at our office in Leidschenveen and let's discuss the best purchase strategy together.
Making an offer on your dream home
While you imagine yourself in the clouds, we are the discussion partner with the selling broker. We schedule a viewing and take a critical and objective look at the technical condition of the house. As experienced real estate buying agents with extensive knowledge of the housing market and house prices in The Hague, Leidschenveen and Ypenburg, we are able to make a purchase price analysis and an accurate house valuation. This gives you immediate insight into the market value, you know whether the asking price is realistic and there are no surprises.
We also review all legal documents and examine any ambiguities and peculiarities. Based on all the information and insights, your real estate buying agent provides appropriate advice on an opening offer, resolutive conditions and key transfer after which we can start the negotiations. Moreover, we are not emotionally involved in the purchase and can negotiate the best price for you.
schedule a free introduction meeting
Driven real estate purchase agent with personal approach
As a real estate purchase agent, we also understand that every situation is unique. That's why we offer a personal approach that is completely tailored to your needs and desires. We listen to your story, map out your goals and desires, and ensure that your interests are protected at all times. We also help you make a wise choice so you can be sure that that one home is really what you want.
Step by step buying your dream home
We want to relieve you of worries throughout the entire purchase process, arrange everything down to the last detail and like short lines of communication. That's why we set up a group app with you, the buying agent and the back office, so you can ask all your questions easily. The buying agent is in frequent contact with you during the negotiations so that you are not left in suspense. Your dream home is our priority, which is why we guarantee a smooth and successful buying process.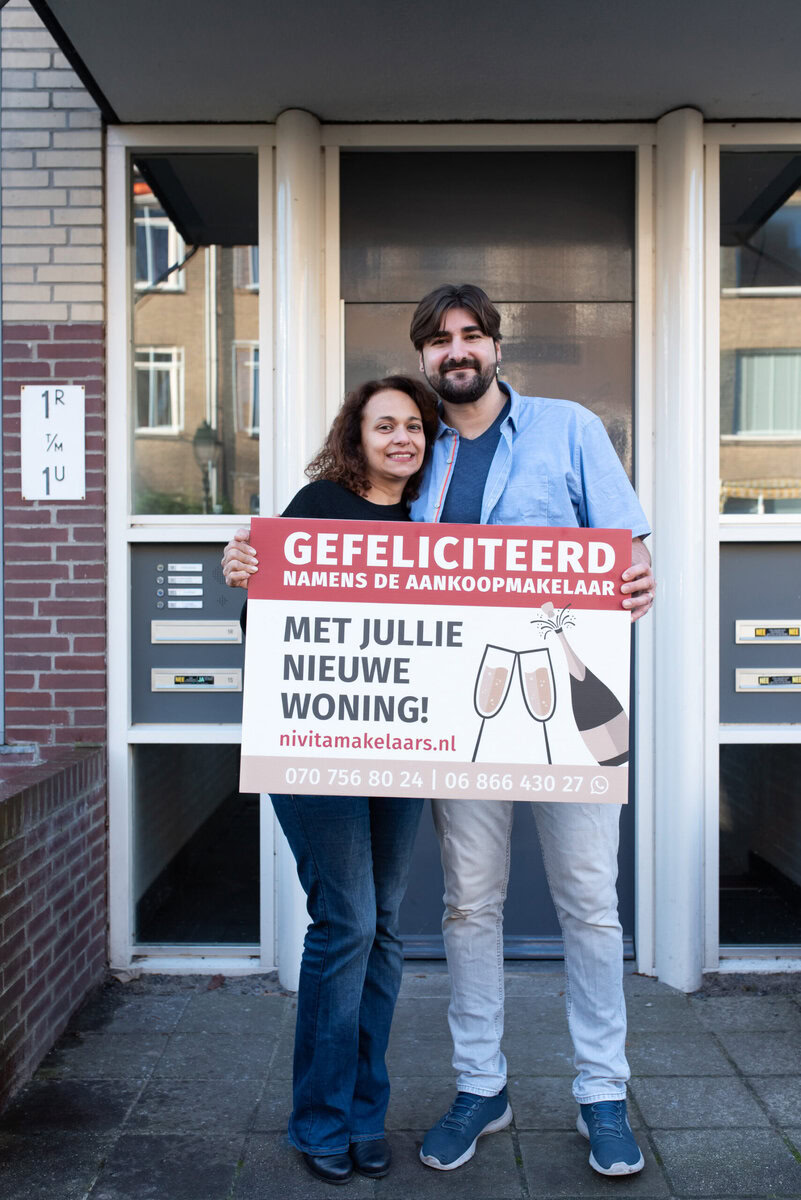 Your living dream, our priority
Reliable and knowledgeable real estate agency
For us it's not just about buying a home, but finding a place where you truly feel at home. Nivita and Laura, with over 40 years of combined experience working with expatriates worldwide, have a deep understanding of the unique needs and preferences of people around the world. We have successfully assisted employees of renowned international organizations, including EMA, ESA, Shell, Estec, EPO, ICC, Europol, NATO, UN, international IT, insurance and pharmaceutical companies.
We understand that a nice home feeling is invaluable and strive for high customer satisfaction. Therefore, we value our clients' opinions immensely and regularly ask them to share their reviews and experiences about us as a real estate agent on various platforms. These valuable reviews confirm that we are an excellent, reliable and experienced real estate agency in the region of The Hague, Leidschenveen, Ypenburg and Wassenaar.
We are proud of the fact that we are regularly allowed to provide buying and selling guidance for returning clients, their colleagues, their families and friends. It is a great compliment that our clients trust us to guide them in realizing their housing dreams. We put our passion and dedication into providing each client with a unique and personalized experience, listening to their wants and needs and guiding them step by step to their ideal home.
schedule a free introduction meeting
Additional real estate services
Besides purchase guidance and advice for first-time buyers and those moving on, we also offer assistancy in rentals and sales in The Hague, Leidschenveen and Ypenburg. In recent years we have also gained much experience in the purchase of luxury homes such as detached houses in Leidschenveen, Ypenburg and Wassenaar, stately homes in Archipelbuurt, Benoordenhout, Belgisch Park, Marlot, Statenkwartier and Zeeheldenbuurt.
We understand that every situation is unique and adapt our services to meet the specific needs of our clients. Moreover, we have extensive experience in assisting expats in The Hague. We understand the specific challenges expats face and can help them find their dream home in a new environment.
Feel free to inquire about our brokerage rates for the various services we offer. We strive to make our services accessible and affordable, giving everyone the opportunity to make their housing dreams come true. At Nivita Makelaars, customer satisfaction is our top priority and we strive to provide you with a memorable and successful experience in finding your ideal home.
Contact us today and find out how Nivita Makelaars can help you realize your living dreams. Together, we will create a place where you can truly come home.